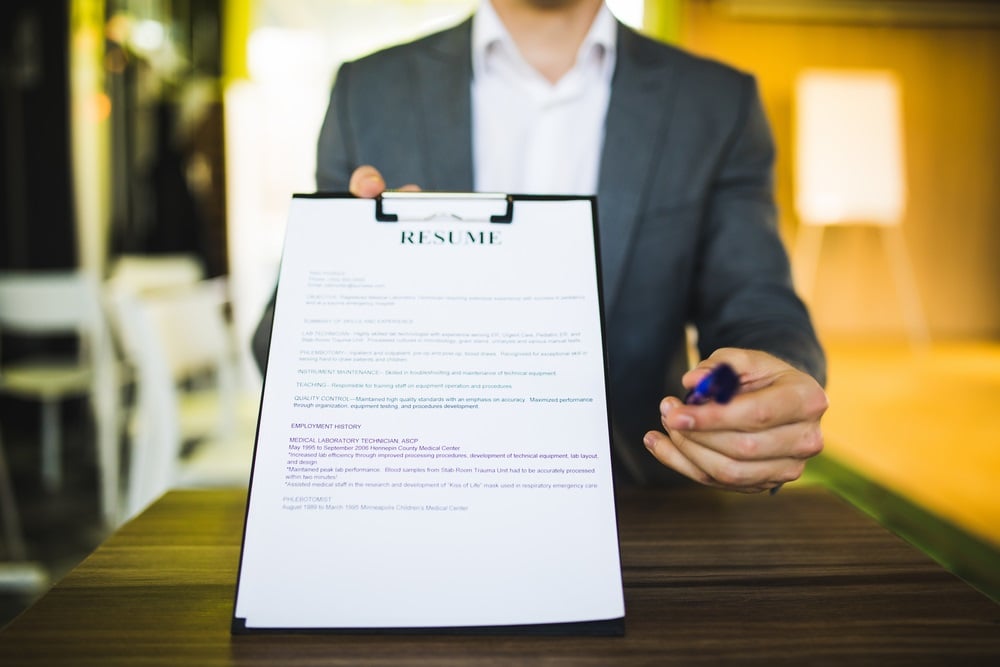 As a job seeker, you may have a lot of questions about how to write the resume that gets you the interview. One-page or two? Which font? What format - functional or chronological? For each position we need to fill, our recruiters sometimes receive 100 resumes or more.
Here's What You Need To Know
Understand the Applicant Tracking System
Applicant Tracking System (ATS) software is used by many companies to read resumes and speed up the hiring process. The ATS identifies candidates whose resumes have skills and experiences listed that match the qualifications of the position. Having an ATS-friendly resume can mean the difference between being found and getting overlooked.
Pay attention to fonts and page size
Make sure the font you use is something simple and easy to read. Don't get too creative. Folks in certain creative fields (like advertising and marketing) have some leeway here. Whatever font you chose, don't make it too small! Do you have to drastically reduce the size of your font (less than 9 pts) to get everything on one page? If so, you need to go to the second page. Good design matters. It is perfectly acceptable to have a two-page resume. Your experience and work history will dictate what you need to do. If you need more room to show this career progression, take it! The exception being if you've been working for a while, don't list jobs you held more than 15 to 20 years ago.
Understand the role of the objective or summary
There are differing views on this one. Don't make your summary too broad. Also, red flags go up if your objective says one thing, but all your supporting bullets and experience don't reinforce it. Your objective should support the role you are applying for.
Entry level job seekers have different rules
Employers know that graduating seniors don't have a lot of experience. Don't add fluff just to fill space. Internship, co-op or volunteer work always looks great on a resume. Consider listing a few courses you've taken, especially if they are directly related to the job you want. Don't overdo it though. We don't need your entire transcript.
Choose the right keywords
Keywords are important. From ATS scanning to recruiters searching LinkedIn and resume databases, keywords help you get recognized. If you don't have keywords within your bullet points, you may not come up in a search. You can find many of these keywords in the job description of the role you're pursuing.
Focus on the flow
Always start with the most recent experience and work backward. Show your resume to a relative or friend. How does it read? It should flow nicely. They should be able to tell what kind of job you're going for.
Include appropriate contact Information
No need to include a mailing address, instead list your LinkedIn URL. Not on LinkedIn? You need to be! LinkedIn is becoming increasingly more important for job seekers and employers. Make sure your profile is robust AND matches the tone of your resume. If you customize your resume too much and don't do the same to your LinkedIn profile, it can appear that you're not sure what kind of job you want – or, even worse, that you're not qualified for it.
Take heed of grammar/spelling
Triple check for errors. Get a second or third set of eyes to review your resume. Spell check won't catch every error.
Helpful Hint: Read your document out loud from beginning to end to force you to focus on each word.
Cover letters shouldn't be an afterthought
There are various opinions on this one. Even if a recruiter or hiring manager doesn't place a big emphasis on them, do you really want to take that chance? A well written cover letter can set you apart from others – in a good way. This is your chance to really show why you should be called in for the interview. Review the job description and use it as a basis to explain why you match what the employer is looking for. Not a great writer? There are many resources out there with samples and advice to help you write a good cover letter.
Focus on achievements/accomplishments – avoid a laundry list of tasks
Recruiters read A LOT of resumes. After a while, they can all start to blend together. Imagine seeing resume after resume with what basically amounts to a job description with a list of responsibilities. We don't want to know your day-to-day tasks! We want to know how you performed. You can show this by translating those duties into accomplishments. We can't emphasize this enough! To really stand out, you need to use facts like percentages and statistics to show how you made a difference at your employer. Did you increase sales by 25% in six months? Use that as one of your bullet points!
The competition for jobs has never been fiercer. Make sure you are rising to the challenge by using these tips to make your resume the best that it can be!
Want to learn more about working for CRH Americas?
Visit us at CRH Americas Careers and follow us on social media